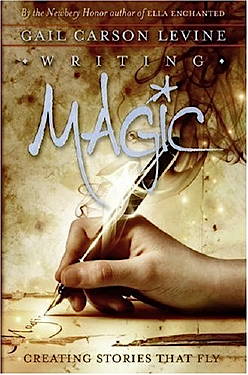 I had this review back at the "Toasted Scimitar" blog before it died,  and thougth looking it over I'd like to share it here too.
I'm excited to share about "Writing Magic" by Gail Carson Levine, a well-known children's author. When I opend this book as a Christmas present, I admit I was a bit skeptical. A children's book on writing? What was I going to learn from that? I've been writing seriously for the last five years and sold my first novel last year. After reading scores of books on writing, I already have my favorite two books on craft, "Writing on Both Sides of the Brain" and "The First Five Pages". Add the classic Stunk and White "Elements of Style" for grammar and "Steering the Craft" by LeGuin for inspiration when floundering, and I figure I'm pretty well set. I check the same books out of the library constantly.
"I know you know everything in this book," my mother said as I stared at it. "She's just such a joy to read and I though you'd enjoy all her stories about rejection letters. I found them heartening."
After giving the book a try, I have to say that Levine's book is the best book for kids on writing that I've read and certainly worth any beginner in writing picking up. Her friendly narration and hopeful and encouraging tone are quite infective. Plus, she's just plain fun. What other books on writing encourage you to rewrite Little Red Ridinghood with everyone staying eaten at the end (the chapter about making your characters suffer) or encourages you to describe in detail what brushing your teeth is like (the chapter on description)? The writing exercises are as quirky and enticing as everything else.
No, I didn't learn anything I didn't know before, but I sure had fun being reminded about it.
"The best way to write better is to write more," Levine insists throughout the book and promptly gives you more than enough prompts to do immediately that. Every chapter prods the reader in this direction. Humor might be the vehicle, but Levine is also deadly serious with all her suggestions and right on target with what makes writing good. A short 161 pages with large type (but nicely indexed for reference), this book is brief but welcoming, and exactly what I wish could have existed back when I was ten or eleven and convinced writing was "too hard" for me. As an adult and a published author, I really do enjoy the warm and fuzzy feeling I get reading it, the feeling I could write anything, and just might, if only I'd sit down and try it.
And I'll happily take her writer's oath again before getting back to work on my projects.
"I promise solemnly:
1. to write as often and as much as I can,
2. to respect my writing self, and
3. to nurture the writing of others."
Do that, and we can't go astray.