One of the best things over the years about being a member of my favorite critique group (Critique Circle) is the many fabulous books I've encountered in helping other authors. Sure, when I read them in critique, the majority of books are deeply flawed and in need of help, but that's why they're in critique. They aren't yet ready. But by the time they've finished there they're strong works that stick with me for years.
So, here are ten middle grade or young adult books I critiqued in formation (in various levels) that have made their way to publication and why they've stuck with me. Sadly, there's many more that haven't reached publication, but I can always hope at least some of them will (perhaps a topic for another day). Also, I've enjoyed a number of fantastic adult novels in critique as well, but since I'm a children's writer, I like to keep the blog focused on that genre. I must say, reading such a wide variety of stuff is one of the things I've really enjoyed about critiquing other authors.
Despite all being middle grade or young adult, these vary greatly in subject and taste, because as a reader I've got a wide interest. But what they all have in common is I've thought of them long after reading them. Also, most of them are new releases this year, some with sequels planned for next year!  So I'll have to do this blog topic again sometime soon!
Lost in Lexicon by Pendred Noyce– Ivan and Daphne, bored with their great aunt's house, wander into an alternate universe where a thesaurus is an animal rather like a llama and punctuation can cause pest-like problems.  Both words and numbers weave magic in this "Phantom Tollbooth"-like world.
I totally loved critiquing this one, and it excited me to have something like one of beloved childhood favorite novels.  I was thrilled when Penny self-published it and even more thrilled when a publisher picked it up.  This book is both educational and entertaining, plus fully illustrated with whimsical art.  Be prepared to be challenged with both word and number puzzles, but if you aren't into that, there's also a great story and two well-developed main characters to enjoy.  And, I've critiqued the forthcoming sequel as well and can hardly wait for it to get released.
Hannibal's Elephant Girl by Ariion Kathleen Brindley– Liada is pulled from the river by the elephant Obolus, and adopted into a bustling military camp and all the traders who operate in it.  She searches both for who she used to be, and who she wants to become, while getting to know the young man who will soon begin his famous march on Rome.
This one is a classic historical fiction middle grade novel, and one I think ought to win awards, but I don't know how much the author has managed to submit it to any contests, unfortunately.  The characters and setting is vivid and reminded me of such Newberry winning historical classics as "Yung Fu of the Upper Yangtze" or "Daughter of the Mountains."  The one thing I wanted more of, was more scenes with Obulus, the elephant, although I'm guessing the sequel has plenty of that.  Unfortunately I haven't gotten to read it yet.  I have read a couple of Brindley's other, adult novels though, and they're also excellent.
 The Odd Job Squad by Karl Fields — Ander runs a middle school revenge business with his small group of quirky friends.  They pride themselves on getting back at the school bullies without getting caught.  But when they stumble into some adult secrets with large ramifications, they find themselves in deeper trouble than they ever imagined.
This one had me laughing the whole way through, yet also really caring about the characters. Like "Dairy of a Wimpy Kid" or the "Bad Girls" series, I felt totally immersed in the world of junior high school while reading.  The setting in San Francisco is very vivid as well; I've only visited the city a couple times, but felt the novel really captured the sense of it.  Also, plenty of plot twists and turns and a thought provoking commentary on what's appropriate and what's not trying to stand up to bullies.
Bad Spelling by Marva Dasef — Katrina can't spell, a terrible problem for anyone, but made worse by the fact she's a witch.  All her spells go wrong, no matter how hard she works, while her younger brother is extra talented.  It's enough to drive any girl crazy.  But when she sets out find the nature of the curse that hinders her magic, her brother turns out to also be her biggest supporter.
A lively mix of humor and sincerity, this adventure is one I critiqued from its first draft, and I'm thrilled that it finally got picked up by an e-publisher this year.  The characters are dynamic and the sibling relationship my favorite part of this story.  There's also some great plot twists and hilarious moments I don't want to spoil.  And while this is my favorite of Marva's books, I've also helped critique and am a fan several other middle grade novels of hers, including "Eagle Quest," "The Tales of Abu Newas," and "First Duty."
The Mirror of N'de by LK Malone — Hadlay, a gutsy child of an enslaved people, wins a chance to join the Emperor's elite magical school.  She hopes by winning the prince's attention she can better her people's plight, yet swept away by competing desires for revenge and glory, finds herself wrapped up in court politics that go deeper than she could have ever imagined.
Think "Narnia" meets "Harry Potter" with a twist of horror, or at least in my mind when I consider how grim some of the spectacular twists in the story take it. (Then again, "Goosebumps" is my level of horror novels.) I would consider it a 12 and up novel, depending on how well the kids can take horror, but well worth the read.   Part of it is the vivid quality of events that really bring the fantasy world presented here to life.  Also, I don't mind a bit of allegory in a story, especially one with such strong plot and characters.  It makes its theological points, but it's all within the framework of the story events.
Hero's Choice by A. Merc Rustad — Dark Lord Mrkota discovers the newborn fated to kill him in fifteen years, conveniently marked with a blue star on his forehead. But flouting tradition, he decides to adult him instead of letting him float off downstream in a basket, because "I'd rather have my heir learn how to rule my empire the proper way if he's going to kill me and take over." Everyone else, however, seems bent on making fate come true, whatever Mrkota and his son might want.
This is a wonderful young adult humor novella in the tradition of "Dealing with Dragons," only this time it's the villain who's taking a stand against fairy tale traditions. It's published with the young adult online magazine "Silver Blade," and currently FREE. If you haven't read it yet, go do it, while it's still available! Although I hope the author will put it up on kindle when the magazine is done with it, because this is one of my all time favorites.
The Dragon Box by Katie W Stewart — James is drawn into another world by a small devise belonging to his quirky neighbor and has to work out his real world problems in a parallel fantasy world.
While I don't love this one as much as the author's forthcoming "The Mark of the Dragon Queen," it's a strong middle grade novel that will resonate with kids.  The characters are dynamic and entertaining and the well worn themes are presented in a lively manner that's quite appealing. And who wouldn't fall in love with this cute little dragon?
Unchosen Mage by M. Norton —  A wizard locked in a Merlin-esque state of suspended animation might be the only hope for Lanterra as evil forces seek to destroy the world. Two young wizards in training, one the top of his class, the other the class dropout, are forced by events to go looking for a way to end the enchantment.
This classic high fantasy novel was one that I shredded early on it its life. Instead of ignore me of worse, being crushed, Marti gave me almost everything I asked for! And believe me, what I asked for was a complete rewriting of events. How awesome is that for an author? And one of the scenes I asked her for ended up being a trust fantastic scene, but since it involves the climax, I'm going to keep quiet about exactly how awesome it is. It's a young adult novel in the same vein as "Eragon," but with great friendship between the two main characters at its center that keeps it much more vivid as far as characterization.
Ashfall by Mike Mullin — When a supervolcano at Yellowstone explodes, it sends a large section of the United States into chaos.  Dark ash covers everything, blotting out sunlight, and things fall apart quickly.  Alex, left home on the fateful afternoon by himself while his family went to visit relatives, journeys across the ash-covered landscape to attempt to reach them.  It is a battle for survival.
This gripping disaster novel kept me glued to it each time it went through the queue. It is on the more mature end of children's books for violence, language, sex, and the sorts of situations presented. Like "Lord of the Flies" we get some of the darker aspects of human nature, but for the right young adult (and adult readers like me), will have a lot of appeal.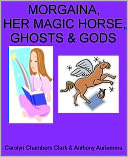 Morgaina, Her Magic Horse, Ghosts and Gods by Carolyn Chambers Clark — Morgaina has been languishing in an orphanage (that is driving everyone crazy with her pranks), until the ghost of her mother shows up to deck her out in full battle gear and send her off to Valhalla on her first quest.  Turns out her mysterious father was a Norse god and quests are a family tradition.
I'll admit the cover is awful, the title could be better (I liked the original one more), and it probably needs more copy editing than this poor book got, but this is a great story for the target audience of 9-12 year old girls.  I laughed and smiled all the way through critiquing it, the characters are lively and fun, the setting whimsical, and honestly, the age group is pretty forgiving of bad cover art. So, while I'm hoping the author will hire an artist who can really make this shine, it's still a fun read.  I'm always going to remember it fondly.
***
Also, in honor of the holiday season, I'm having a SALE on my own middle grade novel.  From now until Christmas, "A School for Villains" is only 0.99 on Smashwords!  So pick up a copy while it lasts!