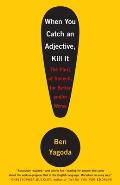 I've been brushing up on my particles of speech. As an author, keeping myself clear on the parts of a sentence and how they work together is critical to improving my writing. I've been enjoying "When You Catch an Adjective, Kill it: The Parts of Speech, for Better and/or Worse" by Ben Yagoda. It's a lot more fun than my college grammar book, that for sure.
I think my attitude towards words has shifted as well. Once I used to look at them only in terms of homework, spelling, or what I can use to get the story down on the page smoothly. Now however, I enjoy learning new words. Yagoda collects unusual adjectives, and some of them are quite amusing.
Here's my ten favorite from his list. See how many of these you know. My spell checker didn't even know a few of them.
capacious
contumelious
fissiparous
fustian
nugatory
otiose
penumbrous
piacular
shambolic
tenebrous
Here's the definitions, along with a random attempt to put the word in a sentence. I feel like I have returned to grade school. I bet they sound just as stilted and homeworkeque as ever, but I keep telling myself it's good for me.
capacious – containing or capable of containing a great deal
In "Harry Potter and the Deathly Hallows," Hermione has a capacious handbag.
contumelious – insolently abusive and humiliating
The contumelious teacher upbraided the student for doodling in class despite it in no way interfering with his listening to the lecture.
fissiparous – tending to break up into parts
The setting sun cast a fissiparous reflection upon the flowing river.
fustian – high-flown or affected in style
Cinderella in her fustian gown and shoes was the star of the ball.
nugatory – of little or no consequence
Scandals in Congress are so common they feel nugatory these days.
otiose – useless; futile
The baby's otiose efforts to escape the playpen left him cranky.
penumbrous – shadowy or indistinct
The penumbrous towers rose about them in the twilight.
piacular – requiring expiation; wicked or blameworthy
The piacular student enjoyed sticking nails in his teacher's car tires.
shambolic – disorganized or confused
She searched desperately for socks through her shambolic pile of laundry.
tenebrous – dark or murky
He peered into the tenebrous depths of the basement.